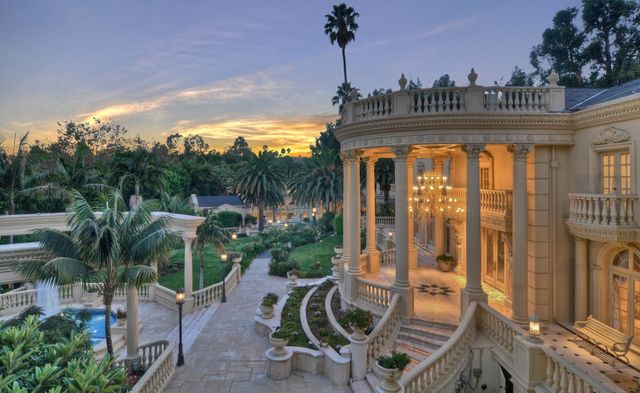 There was a time in the not so distant past that Bel Air was THE neighborhood. It was gated, in the hills, had views overlooking the city, and the homes were designed in the compartmentalized way with exposed ceiling beams and wallpaper in every room. That was the 60's. Of course the 90077 zip code has more than it's fair share of modern mansions, and tasteful designs, but it is nevertheless the bastion of peak suburban luxury. It's still an expensive neighborhood and can boast plenty of celebrity homeowners but it has fallen a bit behind its more brash neighbors.
In this neighborhood an interesting inversion takes place. Unlike other neighborhoods in the Platinum Triangle, homes tend to be smaller and more modest higher up on the ridges they are. Homes in the valley sections tend to be bigger and more ornate - just showing that only a few decades ago people did not care as much about views as the they cared about square footage and yards to entertain in.
Another feature that distinguishes Bel Air is it's proximity to UCLA which flanks it's southern boundary. Bel Air will continue to be a draw for wealthy overseas parents wishing to be closer to their kids and it's possible that this desire for domestic stability contributes to the overall feeling of tranquil stasis that exudes from Bel Air.
Bel Air is also deep, varied and increasingly expensive. The valleys, canyons and ridges form a topography perfect for view properties. Since the bulk of the properties were originally built in the stylistic heydey of midcentury architecture (50's - 60's) the area boasts an exceptional concentration of those homes - ranging from the kitschy to the enduringly stylish. Lots of right angles, white brick, open floor plans, low ceilings, formstone facades and modestly sized pools. That isn't to say there aren't any mega-mansions, because there are plenty of those as well, but even the recent spat of developments can't change the original character of the area, which is one of the most compelling attractors to the area.